Geschrieben von: Gruumsh
Freitag, den 18. April 2014 um 23:18 Uhr
Mit diesem Artikel möchten wir Euch darauf hinweisen, dass bei uns jede Art von Hilfe erwünscht ist.
Global Gameport
ist ein seit 2006 bestehendes Videospiel-Netzwerk
von Fans für Fans
,
bei dem jeder mitmachen kann
, der unsere Philosophie und Leidenschaft für Games teilt. Welche Posten derzeit frei sind & wie Ihr Euch bewerben könnt, findet Ihr im Anschluss!
Offene Stellen
Newsschreiber & Redakteure werden gesucht für:
Assassins Creed
Batman
Borderlands
Day Z
Dead Space
Dragon Age
Grand Theft Auto
Mirror's Edge
Splinter Cell
Superhelden Universum (Fanseite zu Comicverfilmungen)
The Division
The Elder Scrolls Online
The Last of Us
The Order: 1886
Total War
The Witcher
Uncharted
Webmaster werden gesucht für:
Borderlands
Grand Theft Auto
The Elder Scrolls Online
The Last of Us
The Division
The Order: 1886
Außerdem suchen wir:
Youtuber für die Pflege unseres GGP Video-Kanals
Facebook/Twitter-Redakteure
vBulletin 4+ Experten
Drupal 7+ Veteranen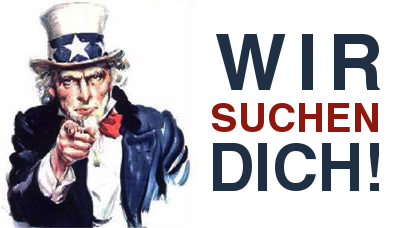 Bewerbung
Was erwarten wir von Dir?
Folgende Punkte sind uns sehr wichtig, sie gewährleisten eine gute Zusammenarbeit im Team.
Du bist bereit wöchentlich & vor allem regelmäßig Zeit in GGP zu investieren
Du bist Spieler aus Leidenschaft, der Einsatz & Engagement für sein Spiel zeigt
Du bist verlässlich
Du besitzt gute (gerne auch perfekte) deutsche Rechtschreibkenntnisse sowie einen angenehmen Schreibstil
HTML- & Bildbearbeitungs-Kenntnisse sind Dir nich fremd, werden aber nicht vorausgesetzt
Teamwork ist für Dich kein Fremdwort
Du bist 16 Jahre oder älter
Was bieten wir?
Ein familiäres und offenes Team, dass seit 2006 Erfahrung mit Fanseitenaufbau- & Management vorweisen kann
Die Option mit Publishern in Kontakt zu treten & so an exklusive Spiele-Infos, Einladungen zu Presse/Community-Events sowie Testmuster zu gelangen
Die Möglichkeit eine Fanseite zu gründen bzw. mitzugestalten
Ein leicht verständliches, modernes CMS (Content Management System), mit dem die Netzwerkseiten bedient werden
Jährliches Team-Treffen im Rahmen der Gamescom in Köln
Die redaktionellen Aufgaben, die man bei GGP erlernt, können zudem für Dein späteres berufliches Leben von Vorteil sein
Nutze folgenden Bewerbungsbogen, damit wir möglichst viel über Dich erfahren und nimm Dir bitte die Zeit alle Punkte so gut es geht auszufüllen, vor allem der Testartikel ist oft entscheidend, ob jemand eingestellt wird oder nicht:
---
Mein Name:
Mein GGP-Foren-Nickname:
E-Mail-Adresse:
Skype-Nutzername:
Mein Alter:
Ich bewerbe mich als:
Ich bewerbe mich für folgende Seite/n bzw. Spiele:
Meine Erfahrungen mit dem ausgewählten Spiel:
Diese speziellen Qualifikationen habe ich:
Testartikel (für Redakteure/Newsschreiber):
---
Den ausgefüllten Bewerbungsbogen (mit Deiner Testnews) sendest Du mit dem Betreff "Bewerbung" an folgende E-Mail-Adresse: Diese E-Mail-Adresse ist gegen Spambots geschützt! JavaScript muss aktiviert werden, damit sie angezeigt werden kann.
Die jeweiligen Teams bzw. Admins entscheiden dann, ob Du als neuer Kollege in Frage kommst. Die Entscheidung wird Dir zeitnah per E-Mail mitgeteilt.
An dieser Stelle sei noch erwähnt, wir unterstützen auch Neugründungen von Fanseiten oder nehmen auch bestehende externe Fanseiten in unser Netzwerk auf. Kontaktiert uns einfach unter der oben angegebenen E-Mail-Adresse!
Wir freuen uns auf Deine Bewerbung!